Streamlining collaboration
Allows the seamless flow of information between all participants
Collaboration Portal is a web-based platform that provides end-to-end support for collaboration and information-sharing in the product lifecycle. All the product data, documents, agreements and policies needed for project execution and collaboration are managed and shared in the Collaboration Portal.
The data is safeguarded with flexible permission management and optional encryption with various security levels.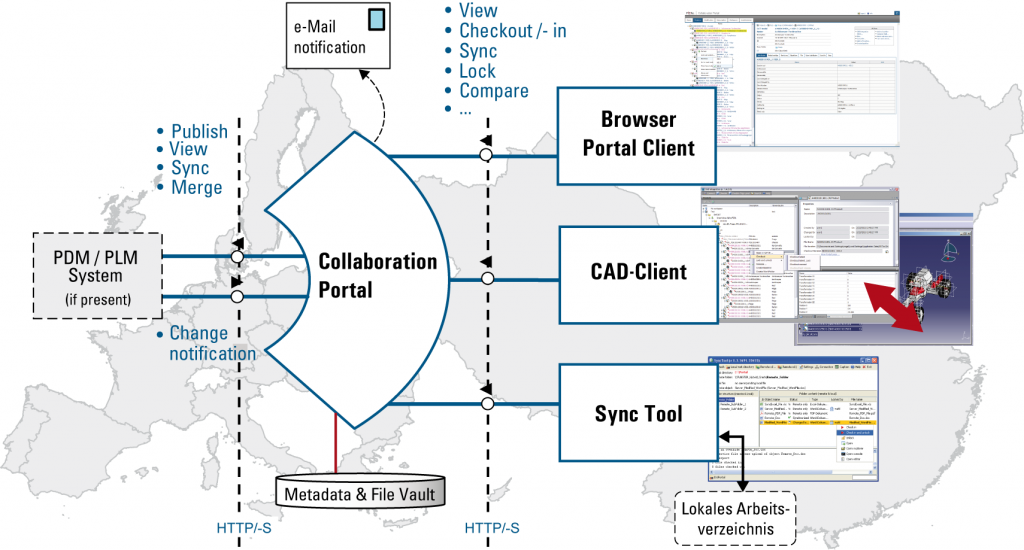 Collaboration Portal tracks and documents events and data changes along the project lifecycle.
Configuration and version tracking allows users to access specific versions and view the change history. Structures managed in the portal are either manipulated right in the browser or are checked out and then edited in the partner's local work environment. On check-in, efficient compare and merge algorithms identify and highlight changes and consolidate data that has been checked out and modified.
To be notified about relevant changes and other selected events, internal and external users can subscribe to selected folders and business objects.
Schwerpunkte Collaboration Portal
Highlights
Controlled access to projects, objects and functions

Extra security with dedicated DMZ and encryption

Versatile project and folder system for data organization

Role- and team-based working

Easily extensible

Dynamic information model
UML modeler

Management of customer- and partner-specific PDM structures

Open, service-oriented architecture

Easy integration with existing IT infrastructure

Effortless communication with existing systems, e.g. for data import
Easy deployment
Benefits
Immediate availability of all relevant information

Structured data storage in project workspaces, personal workspaces and libraries for general information
Configuration and version tracking
Change history

More efficient collaboration

Role- and team-based working
Synchronization of development data on check-in
Locking mechanisms prevent inadvertent data overwrites
Transparent tracking of all partners' development progress
Easy and secure integration of external partners
Notification of relevant changes and events

Improved process security and quality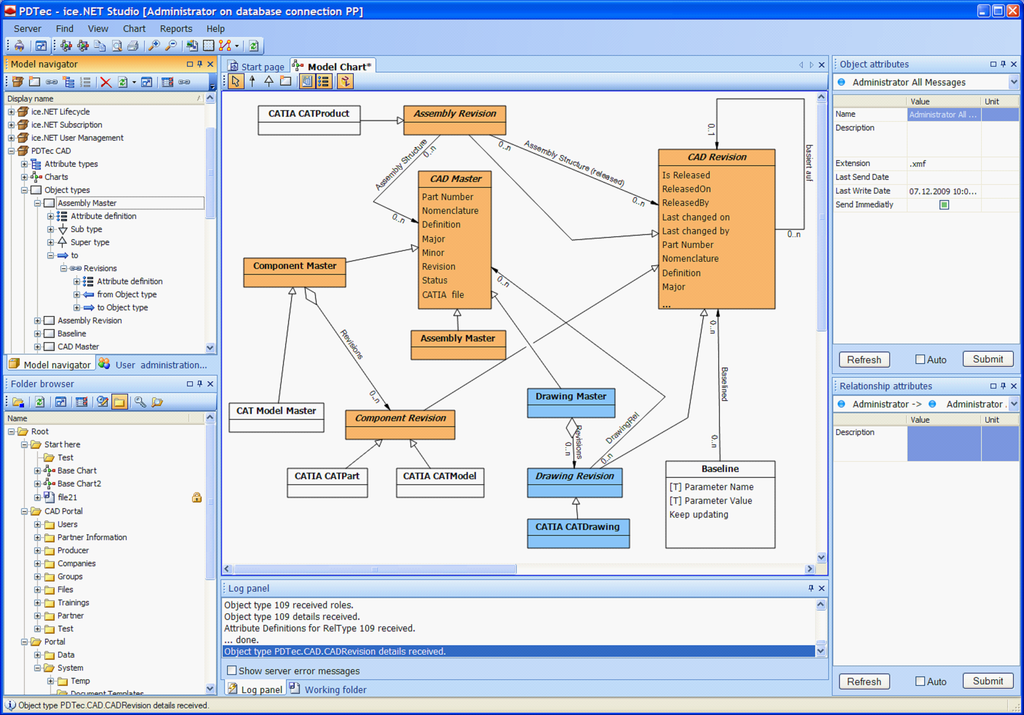 Open solution for supporting unique processes
PDTec's Collaboration Portal has opened up a new dimension in cross-company collaboration. Conventional product lifecycle management (PLM) systems are much too rigid in their structure and data models to adapt quickly and cost-effectively to changes in process and information requirements. However, frequent changes are common when collaborating with multiple partners on various projects or processes. Standard data exchange solutions, including many portals, are file-based and so do not adequately support close collaboration during the development process. Collaboration Portal, by contrast, uses a dynamic UML information model that can be readily extended via an XML interface or a graphical UML modeler to include new object types, attributes, relations or entire model packages.
As a result, Collaboration Portal can be easily adapted for collaboration scenarios in specific disciplines (design, EE, product planning, etc.), scenarios that span disciplines (mechatronics, etc.) or project-specific information requirements. With its flexible, service-oriented architecture and its open XML, SOAP and web service interfaces, Collaboration Portal communicates effortlessly with existing systems. New projects can be launched and set up with minimal cost and effort thanks to the web-based interface and easy integration with CAD and visualization tools – no installation is required. Plus, the dynamic information model can be readily adapted to requirements that change from one project to the next.
Optimizing inter-enterprise collaboration
Collaboration Portal gives external partners granular access to the product data and documents they need for their project activities. If they perform all the work in their own (PDM) system, they can use special mechanisms to automatically upload finished data to the portal and download new data from it. To maximize data security, users can store data in encrypted form with different levels of security and host the solution in a dedicated DMZ.
Thus, as a central integration platform, Collaboration Portal drives significant quality and efficiency improvements at the data and process level in globally dispersed, but closely coordinated collaboration scenarios.