PDTec to introduce data management system for simulation solution CarMaker

Karlsruhe – Februar 13th, 2020 – PDTec AG, a leading provider of software and services for simulation data management systems (SDM) and for solutions designed to integrate CAE data, processes, and systems, today announces the release of its new data management system "SDM_for_CarMaker" (SDM4CM).
SDM4CM enables the efficient and structured management of all simulation-relevant data along virtual test drives.
The development of advanced driver assistance systems (ADAS) and autonomous driving functions is hardly possible without the use of simulation software. Using software solutions of the CarMaker product family from IPG Automotive, the user can transfer real test scenarios in detail into a virtual environment. The environment can be freely configured – including road, road users, and buildings. The parameterized vehicle model, the so-called virtual prototype, is a virtual representation of the real prototype, whose components are represented by suitable models. All vehicle components, from engine, powertrain and ECUs to assistance systems, software functions, and on-board networks can thus be integrated into the simulation to be tested and validated in their entirety in the early development phases. The resulting large volumes of data and numerous simulation results need to be stored in a traceable, structured and versioned manner. In global development teams in particular, there is a need for access to pivotal vehicle and simulation data in the latest version at any time. With SDM4CM, PDTec provides a data management system that enables CarMaker users to easily and efficiently manage their simulation data and save a lot of time, especially when employing HPC clusters.
"We are pleased to provide the users of CarMaker with version 1.4 of SDM4CM with a data management system," said Albrecht Pfaff, chairman of PDTec AG. "The continuous and direct availability of simulation-relevant data is an essential requirement of simulation engineers for their data management systems for virtual test drives. This is the only way to evaluate the immense data volumes from numerous simulation scenarios in a usable way and to store them permanently. Future technologies, in particular, will increasingly rely on artificial intelligence (AI) as well."
SDM4CM's first version is currently being tested by different automotive companies and is planned to be soon used productively.
More information about SDM4CM can be found here.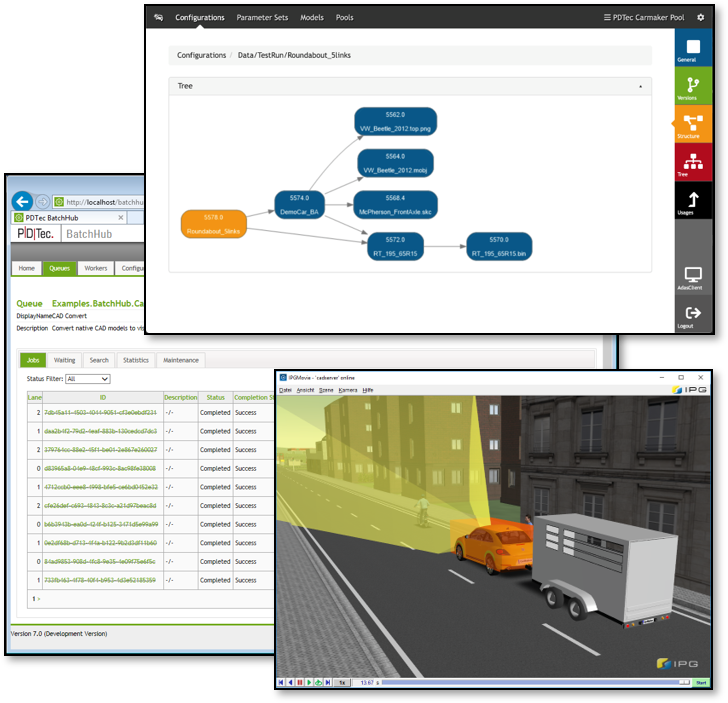 About SDM4CM
SDM4CM allows for efficient and structured management of simulation-relevant data along the entire process chain of virtual test drives. This ensures the increasing amount of calculated simulation variants to be handled reliably. A particular benefit of SDM4CM is the traceability of all input data starting from simulation models (e.g. vehicle, tires, cameras, sensors, actuators, …) to road, environmental and traffic scenarios.
About PDTec AG
PDTec AG is a renowned and highly reputable provider of software and services for engineering data management as well as for partner and supplier integration for PDM-based structure and CAD data exchange. The software solutions offered by PDTec – Collaboration Portal, CAD Portal, SimData Manager, and ice.NET – have been developed based on the company's many years of experience in the integration of data, processes, and systems. PDTec solutions are used primarily in the automotive, aerospace, general machinery, and shipbuilding industries, but are also employed at energy providers and in electronics as well as in the IT industry. The company is headquartered in Karlsruhe, Germany. For more information about PDTec, please visit www.pdtec.de.
The copyright/ trademarks of all products referenced herein are held by their respective companies.
CarMaker is a software product of IPG Automotive GmbH, Karlsruhe
Kontakt
PDTec AG
Albrecht Pfaff
Tel: +49 (0) 172 8531664
E-Mail: pfaff@pdtec.com